We have approval to do another parent training in January and February. Parent feedback after previous trainings has been very positive. It is a Boys Town training so it aligns with the Well Managed Schools training that many of you have taken. If you have parents that you think may be looking for some ideas to help with behavior at home, please feel free to pass the attached brochure along. They are also welcome to contact me for more information.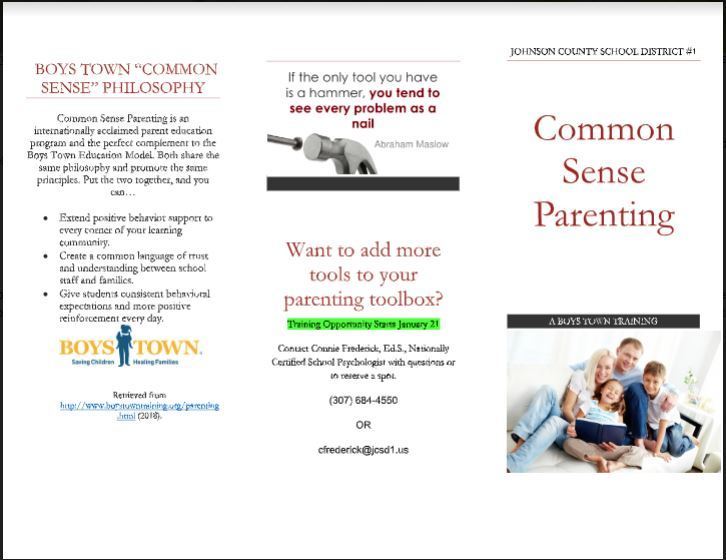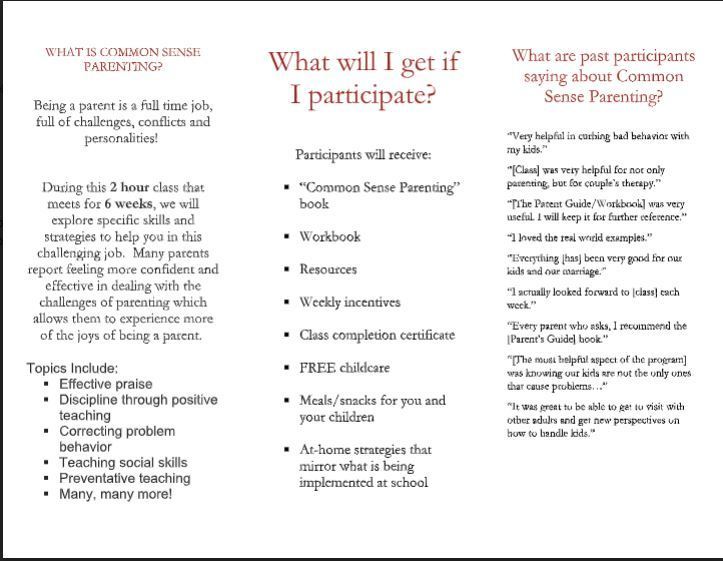 Meadowlark Elementary is collecting canned food for the local food pantry. Please have students bring in canned good Monday & Tuesday (Nov 23-24) and they can wear hats and/or pajamas. Thank you for your support!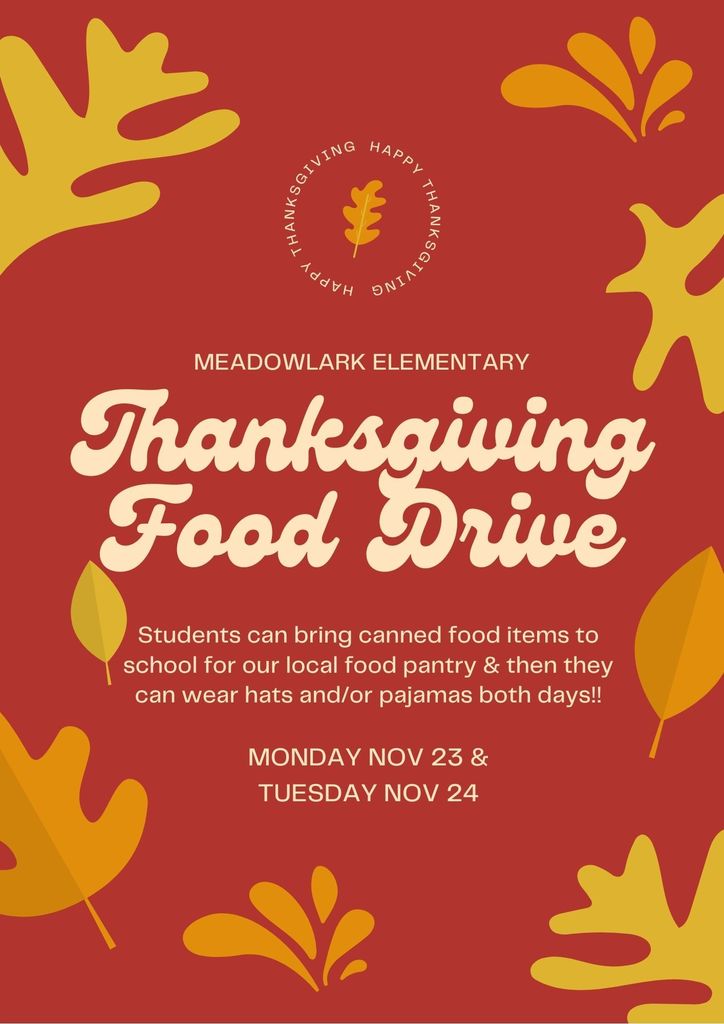 Missing pictures have been reordered and will be here shortly.

Picture Packets are going home today!!!! There is a note on the front of each packet, some are missing pictures. Please disregard the note on the packets. Here is the accurate info on what is missing out of certain packages: Packages A and B are correct but Package C is missing 2 3x5 Package D is missing 2 3x5 and 4 wallets In the Ala carte' Magnets had one…missing 3 Wallets had four…missing 4 Picture retakes will be on December 1st at 8:00 am. Please call if you have any questions! 307-684-9518
Recently, Johnson County has experienced an increase in the number of positive COVID-19 cases, this increase directly impacts the functioning of our school system. The main goal for Johnson County School District is to provide for the health and safety of our students and staff. We believe that schools are the safest place for our students to be and we want to keep our schools open. The safety protocols that are in place in our schools are working to reduce the transmission of this virus. In order for us to continue our mission of guaranteeing a learning environment where every student grows every day in his or her overall well being and academic achievement, we need help from our community. Please remember to wear a face covering, maintain at least 6 feet distance from people in social settings, and frequently wash your hands. Thank you for partnering with us to keep our students and staff safe and participating in face-to-face learning. JCSD#1 is committed to keeping our school buildings open and educating our students.

Covid Update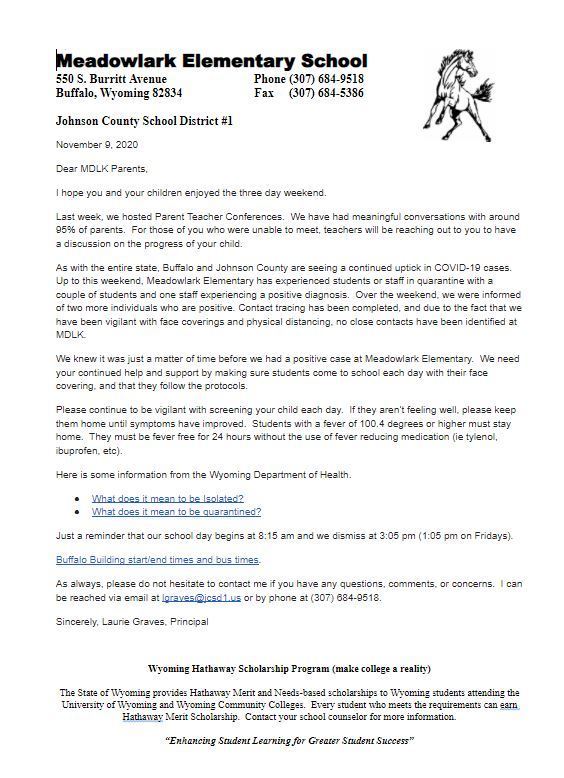 November Home and School Connection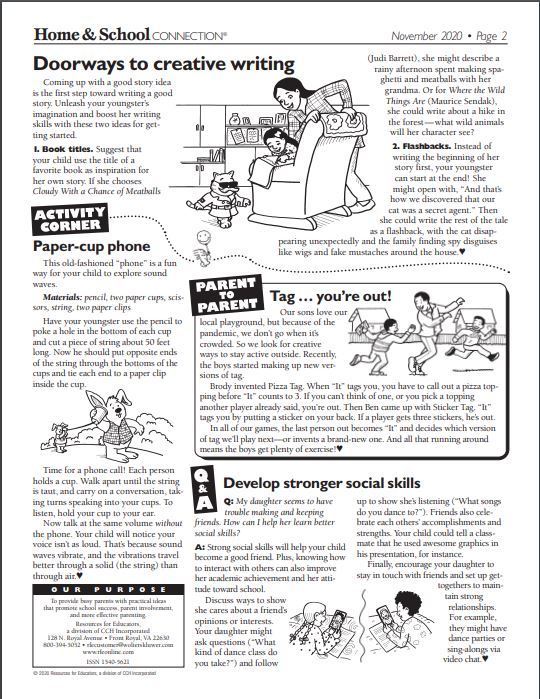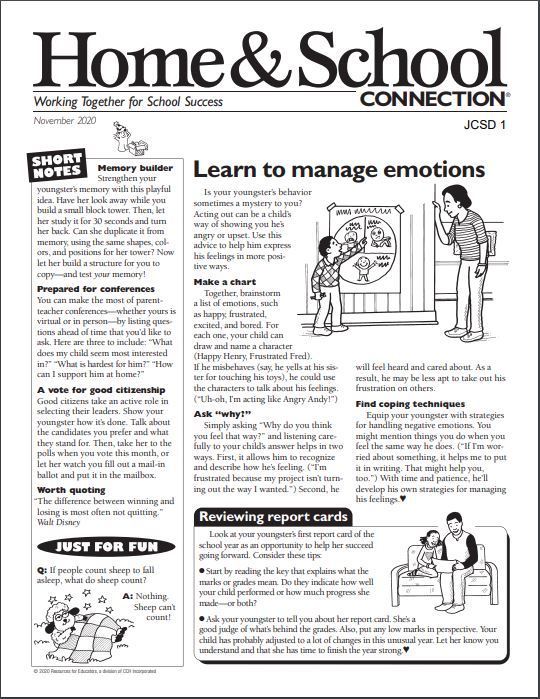 Reminder: Parents are required to update student PowerSchool information every year or anytime you have an address/phone number change. Information must be correct to order to receive important updates we send out regularly through text/email. We also cannot give your student any type of medication if the medical/emergency page isn't completed. Please click the link to verify your information is correct and all forms are complete.
https://powerschool.jcsd1.us/public/
If you have any questions, please call our office at 307-684-9518

Meadowlark Elementary Reminder: Picture Day is scheduled for Tuesday, October 27th. K-2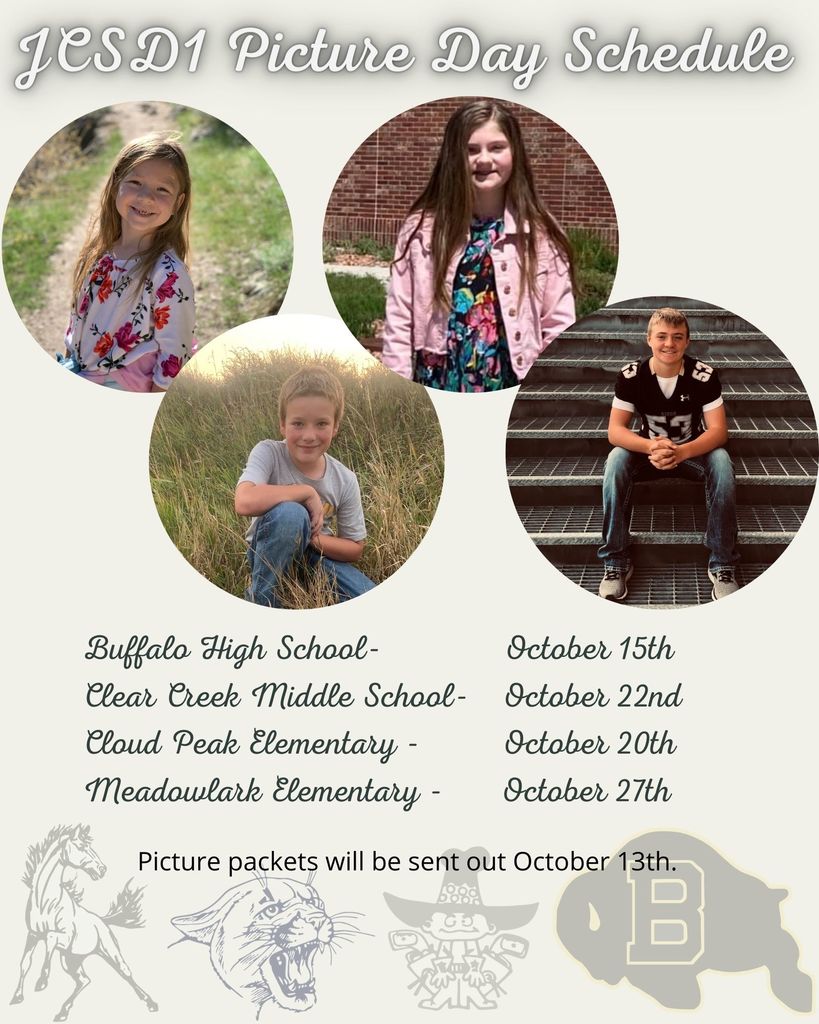 Congratulations Krista Sweckard!

Free Meals have been extended!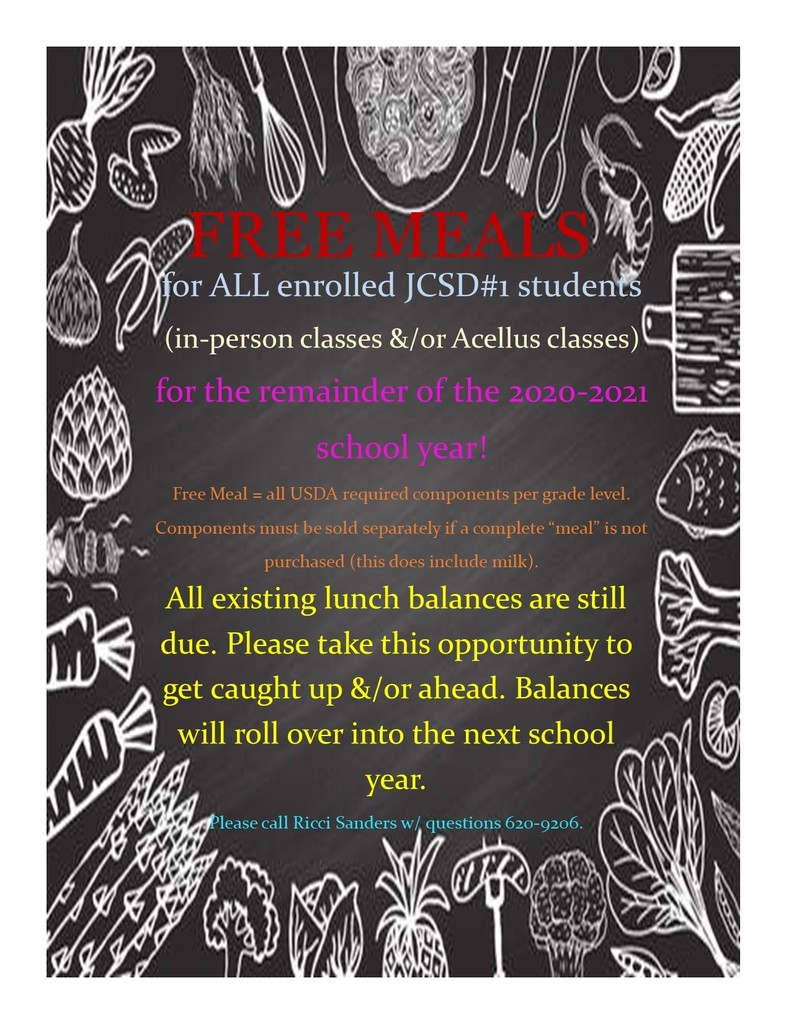 Picture Day Schedule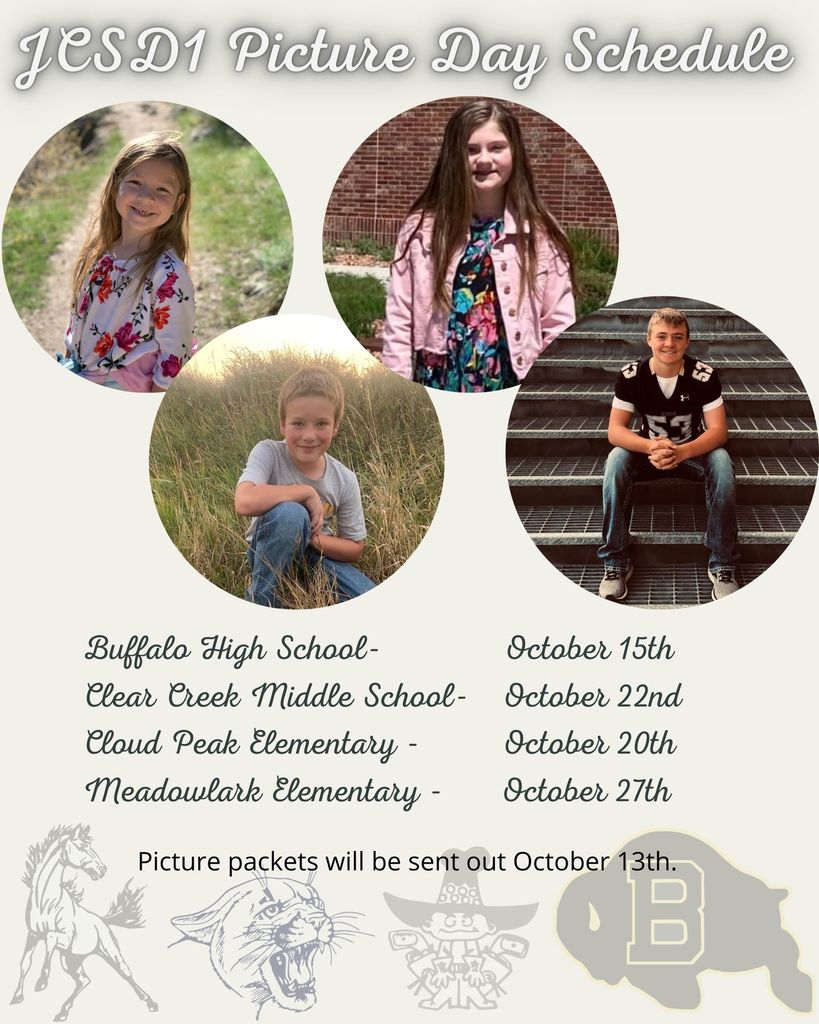 October Home and School Connection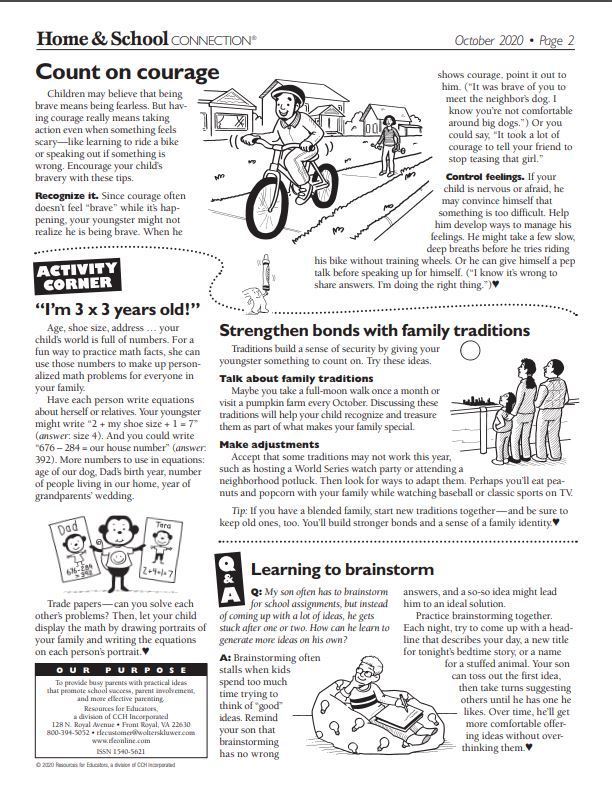 Ned's Mindset Mission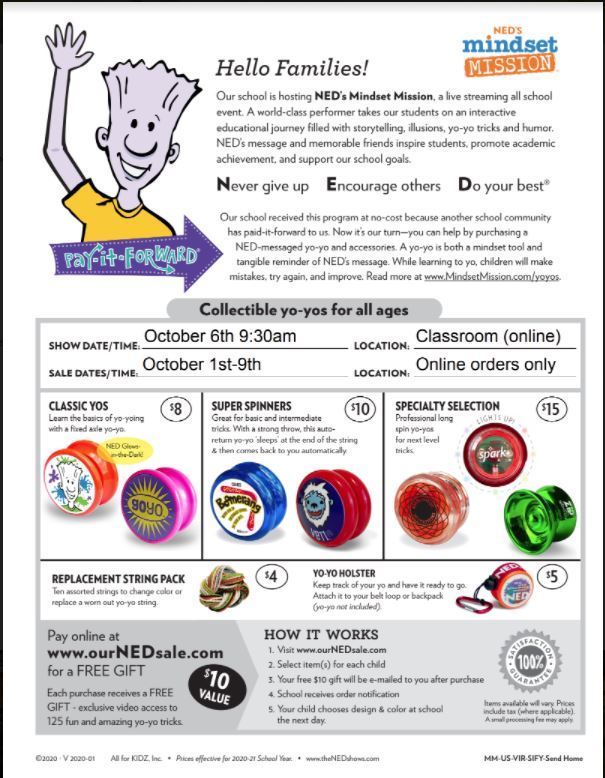 Homecoming Week September 28th- October 2nd 28th: American Day 29th: Country vs Country Club 30th: Beach Day 1st: Throwback Thursday 2nd: Black and Gold Day GO BUFFALO BISON!!!!!!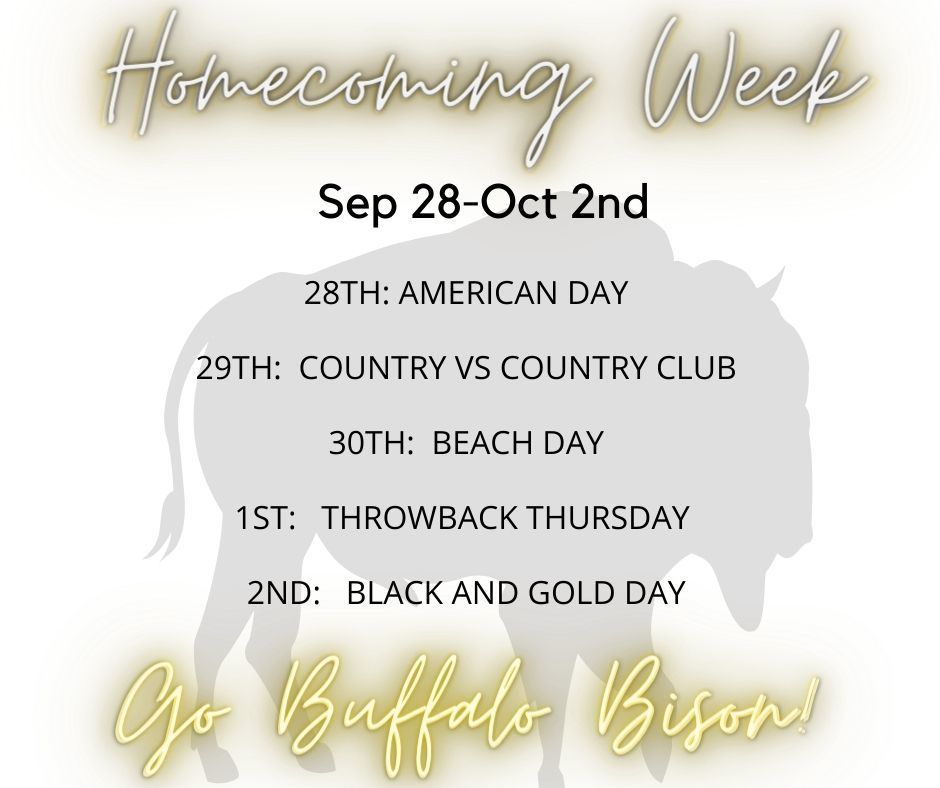 Lunch Menu Update for Oct 2nd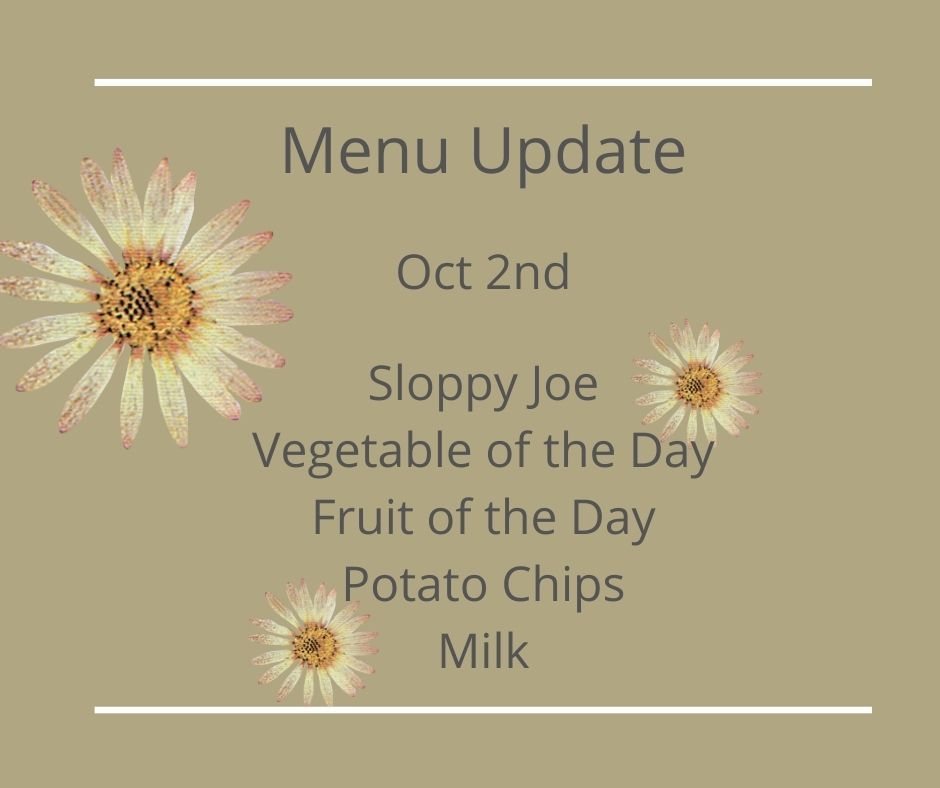 Friday, September 18th dismissal. Students will be with their class teachers. Students who walk or bike so school can go home as normal. Kindergarten: Pickup at front playground. 1st Grade: Class will be spread out on the south end of the soccer field. 2nd Grade: Classes will be spread out on the west side of the school along the bus lane. (Parents may drive/park in bus lane this Friday ONLY. This is typically restricted to buses only!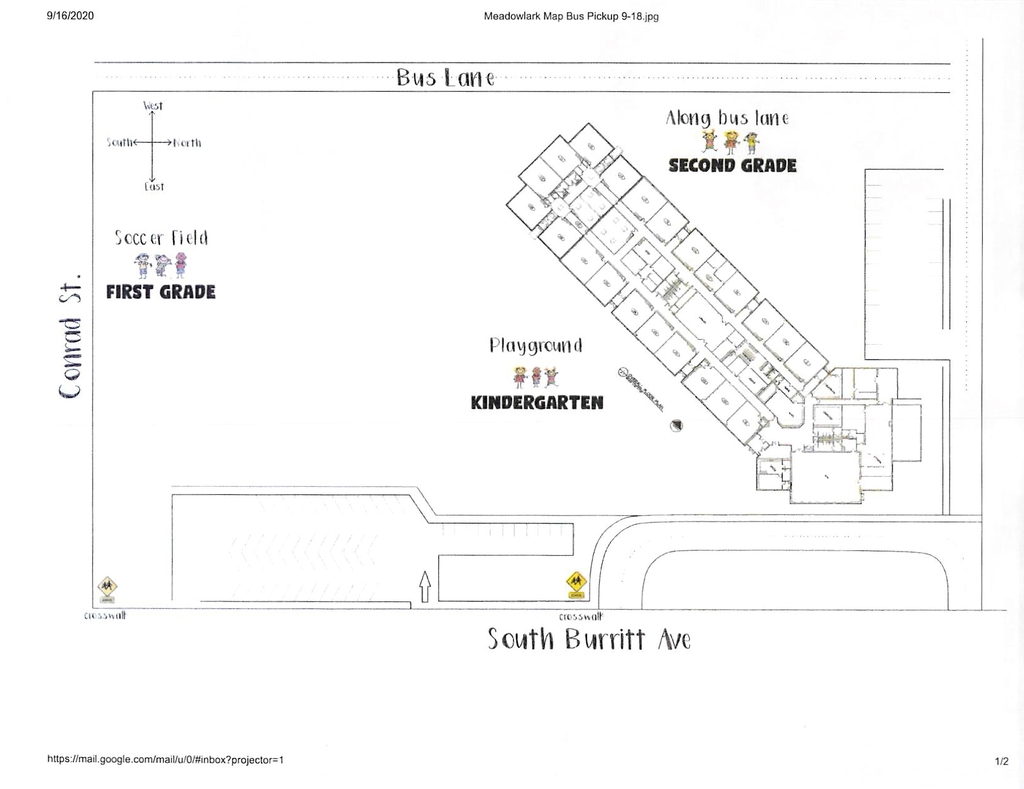 September 18th afternoon bus update.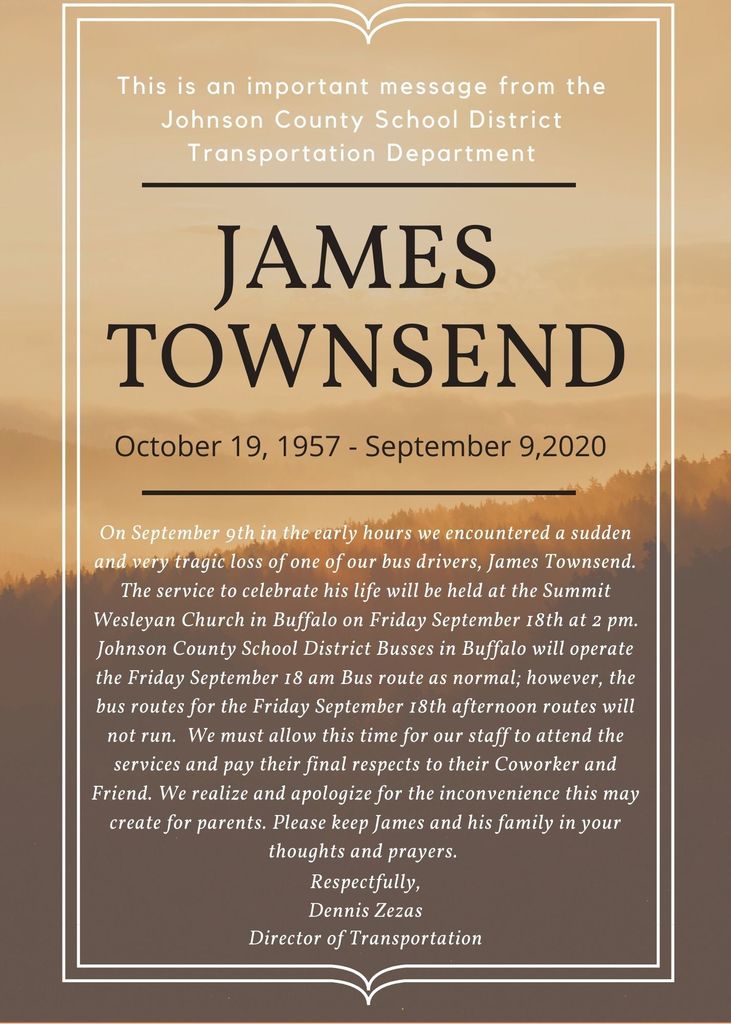 Meadowlark Parents and Families, I would like to thank you all for being so responsive to our communications this afternoon. We plan to start our Friday as normal with breakfast beginning at 7:45 and the first bell ringing at 8:15. Dismissal will be at 1:05. Have a wonderful night .