Here is a reminder that the KCS JH & HS fall sports (VB & FB) parent/player-coaches meeting will be held at 5:00 PM on 8-9-22. All forms that will have to be turned in before the 1st practice will be handed out at this time. 1st practice for all sports including JH will be on 8-15-22. Times and schedules for the individual sports will be handed out by the coach at the meeting. The Kaycee Clinic has 8-11-22 setup for sports physicals by appointment starting at 4:00 PM going to 7:00 PM. You can call them at 738-2360 to set up a time. Any other questions please feel free to call the school at 738-2323.
Kaycee fall sports player-parent and coaches meeting will be held Aug. 9th @ 5:00 pm in the gym. All forms that are required before your athlete can participate will be given out at this meeting.
Good day, The sports schedules and school supply list has been posted on the JCSD1 web page. You can find them under the Kaycee School and parent information tab. For the sports schedules, they are under the fall sports. The Clinic has Aug. 11th set up for sport physicals by appointment, times are 4:00-7:00 pm. You can also schedule a physical on the normal clinic days. Any further question, please call the school 738-2323. Thank you for your patience

IMPORTANT INFORMATION REGARDING SCHOOL MEALS!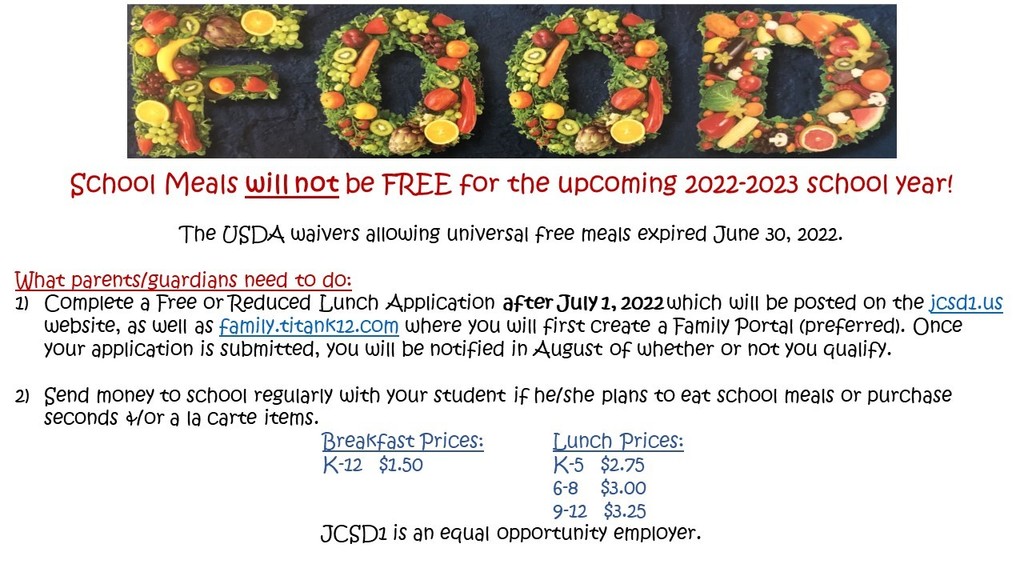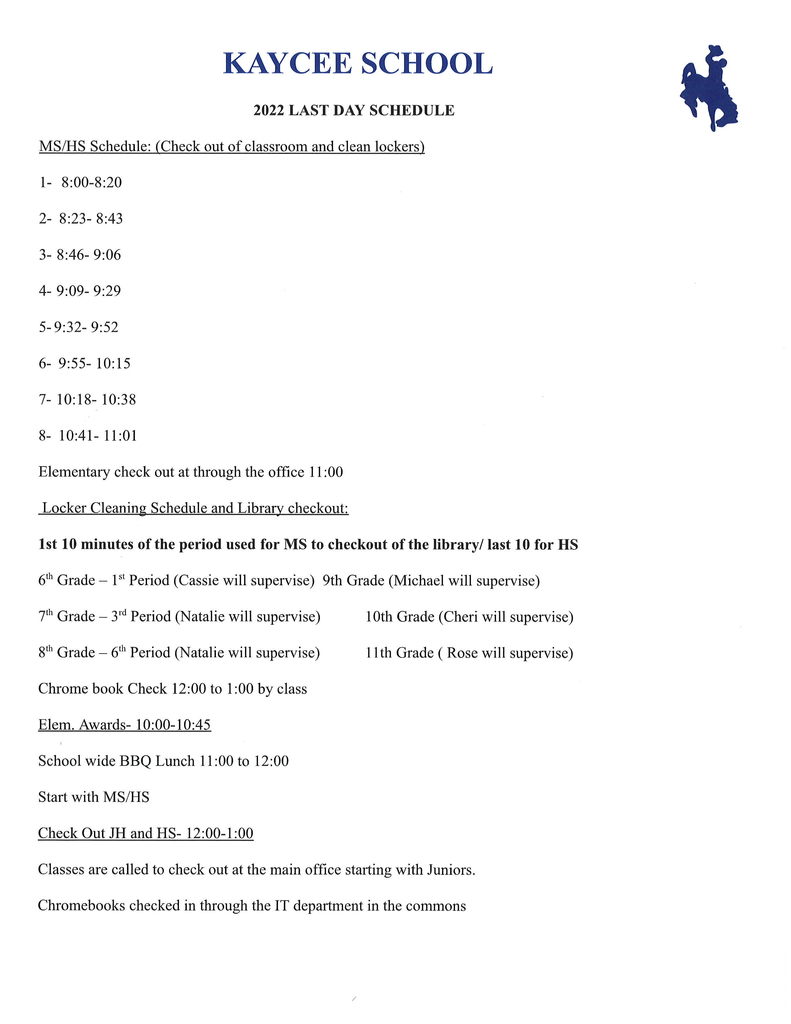 Kaycee - Just a reminder that tomorrow, Tuesday the 24th, will be the high school academic/athletic awards at 5:30pm in the gym. Come celebrate our students!

This is it, final week of the 2021/2022 school year! We have a few activities planned for this week so I wanted to send out a schedule. Monday: Dress Hawaiian Day Tuesday: Dress Like your Teacher Day, Elementary Track and Field Day @ 12:50, Special Olympics in Buffalo HS Academic and Athletic Awards @ 5:30 Wednesday: Dress Disney Character 5th Graders to WyoTown Seniors walk through with Elementary @ 10:00-10:30 Seniors Graduation Practice @ 10:30 Thursday: Dress Summer (But Dress Code appropriate ) Attire Elementary Awards @ 10:00 School wide BBQ Lunch @ 11:00 LAST DAY OF SCHOOL - See the link/attachment for the time and activities for this day. Saturday: Graduation @ 7:00 pm
https://docs.google.com/document/d/1cXJfDYzEr5un67hxNWW4_x-HGsxhMOyU_IIErCS5Ag0/edit?usp=sharing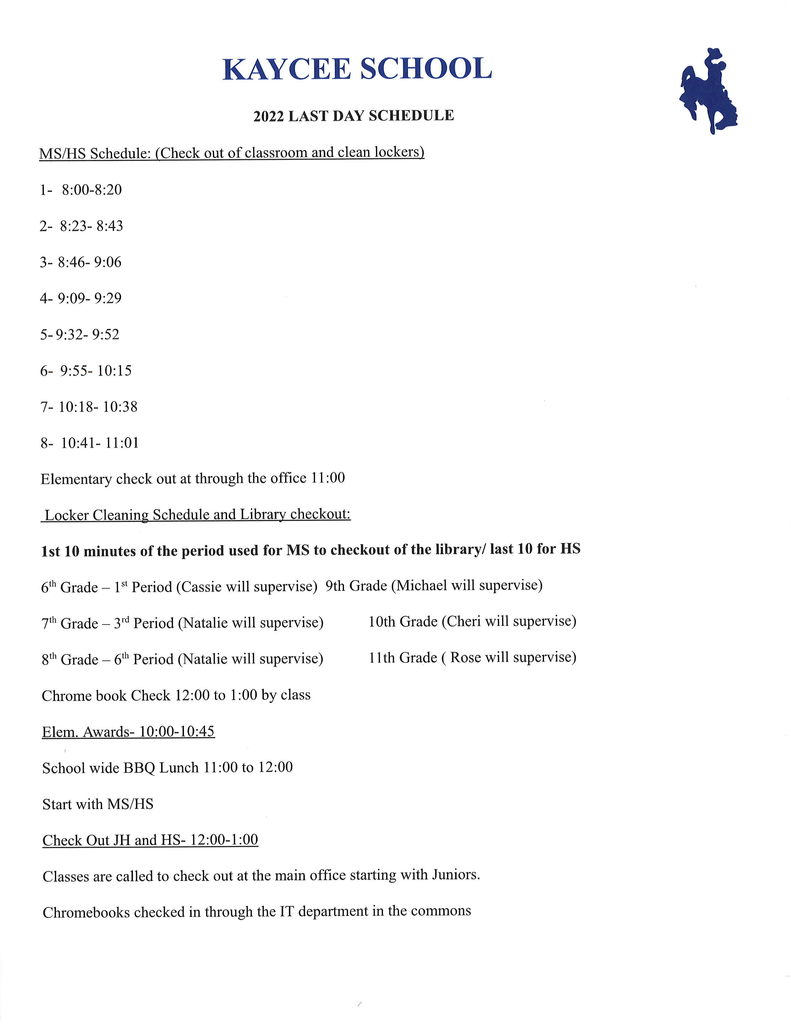 MENU CHANGES: Thursday, May 19th - Chicken Fried Steak, mashed potatoes w/ gravy, dinner roll, fruit and milk. Tuesday, May 24th - Sack Lunch (grades K-5) & Burrito OR Taquitos, tater tots, white queso, tortilla chips, fruit and milk (grades 6-12).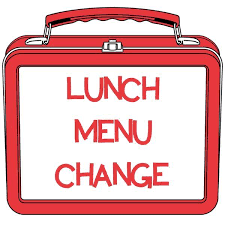 Reschedule!! The Elementary Track and Field Day has been moved from tomorrow, Thursday, May 19, 2022 to next Tuesday, May 24, 2022 due to the weather forecast.

Don't forget the JH Academic/Athletic Awards tonight at 5:30 in the School Gym.
Kaycee - Just a reminder that tomorrow night (Tuesday, 17th), there will be a Middle School awards ceremony for middle school students at 5:30. Following the ceremony, there will be a meeting for those wanting to play High School football next year in Mr. Koch's classroom to discuss camps for the summer and the season next fall.

With the end of the year fast approaching I wanted to remind everyone of this coming weeks activities calendar. Monday, May 16th - Incentive Trip HS & MS Tuesday May 17th - 3rd & 4th grade field trip to Casper, 2nd grade field trip to Hanson Ranch, MS Awards @ 5:30 Wednesday, May 18th - K, 1st & 2nd grade field trip to Casper Thursday, May 19th - Elementary Track and Field Day, JH Dance @ 6:00 pm to 9:00 pm, HS State Track Meet in Casper Friday, May 19th - LAST Focus Friday, Elementary Last day of Swimming, HS State Track Meet in Casper It will be a Busy Busy Week!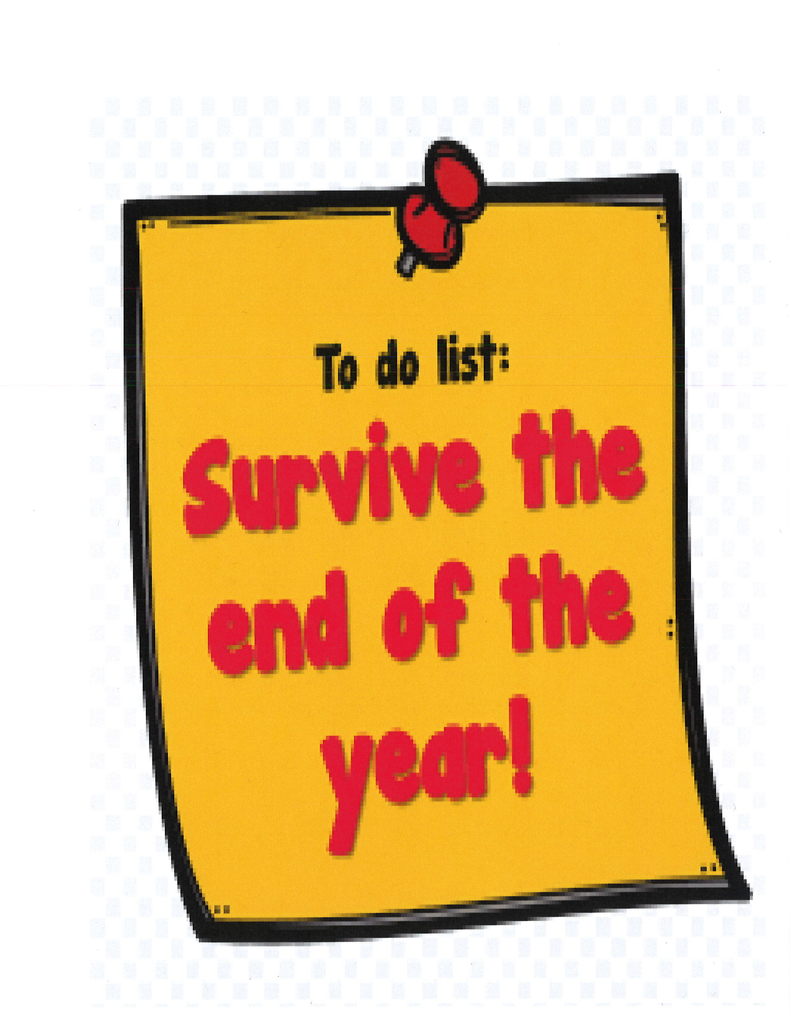 Correction to Incentive slip. If you DO NOT want your child to participate in the movie, sign the slip and return to the school.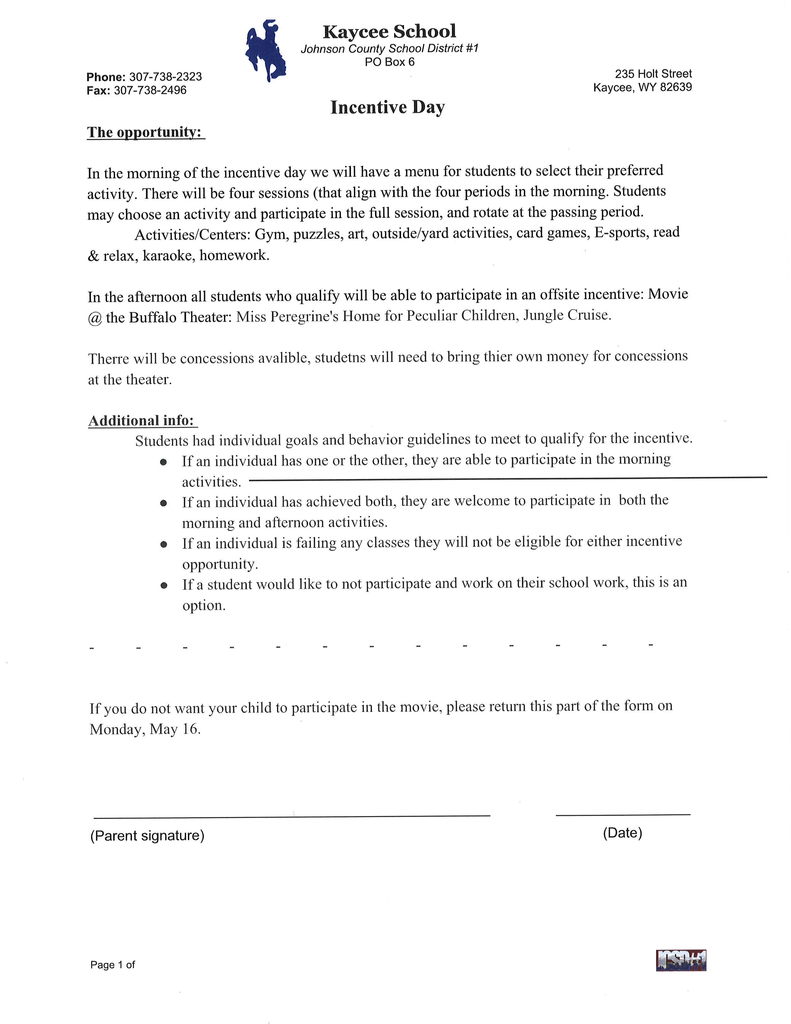 Menu change for May 11, 2022 (tomorrow): The cafeteria will be serving Spaghetti w/ Meat Sauce, Garlic toast instead of Turkey & Cheese Subs tomorrow.

Just a reminder that tonight there will be an Elementary Literacy Math Night at the school from 4 to 5 in the Commons.
Kaycee - Any young man who plans on playing high school basketball next season please meet in Mr. Koch's room tomorrow (Tuesday, 3rd) at 4pm to discuss upcoming camp(s) for the summer. It will be quick for those needing to get to track practice.
Kaycee - Any student interested in playing High School football this upcoming season and desires to go to camps this summer, please meet in Mr. Koch's room right after school this Wednesday (5/4) to discuss fundraising options. It will start at 4pm and be very quick for those needing to make track practice on time.

Reminder tonight is the Coffee Shop/Art Show @ 7:00 in the Commons. Come listen to the Kids that just won 4 Superior and 1 Excellent in the NE District Music Festival earlier today! Also come check out the Art Exhibit Show. These kids took a lot of 1st Place awards at the Art Symposium in Casper last week.