Summer Meals in June 2021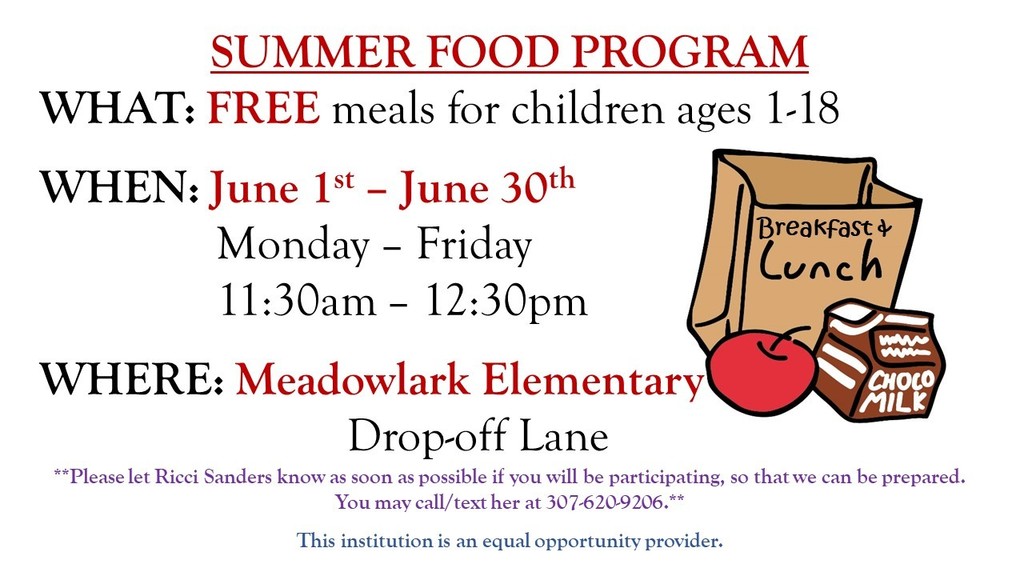 Dear Parents/Guardians, The Johnson County school board voted Thursday night to approve and implement the revised Smart Start Plan for the school. The major change is the wording of masks are recommended and not required. All other aspects of the plan are the same. For instance, if your child is sick or showing any signs of being sick, keep them home. The district will still be requiring extra sanitation by students and staff when entering and leaving a classrooms. We are hopeful that the county will not see an increase in COVID cases.. If we do, the district may be forced or mandated to go back to requiring masks. Please do your part in staying clean and safe as we finish up the school year. It is expected by everyone to respect those who choose to continue wearing masks and those who choose not to wear masks.

Students and staff are still expected to wear masks tomorrow. Administration will be reviewing the smart start plan for changes and notifying parents over the spring break of the changes. School board approved administration to make changes tonight at the special board meeting.

Buffalo Schools are running 2 hours late Tuesday due to severe drifting in the area and increasing wind gusts. Kaycee is running on time.

Dear parents, Due to the extreme forecasted weather, Johnson County School District will not be running route buses on Thursday and Friday. School will be in session for all students who can attend and for parents who can bring their children to school. For parents who are unable to bring their children in to school, the schools will be sending devices home with your children to do school virtually, if you have internet access. If your child needs lunches provided from school during the next two days, please contact Ricci Sanders at 620-9206 by noon today, to let her know so she can send home the lunches. We are doing this to ensure the safety of our students.

Dear Parent/Guardians, I wanted to send out a quick update in regards to a bus accident that happened this morning on Main Street. An individual stepped out onto the street while a bus was heading to the high school and was struck. No students on the bus were injured in the incident, however the individual that was struck sustained injuries and was transported by ambulance to the hospital. Parents of the students on the bus were notified and counselors are on standby for any student that requires assistance. That is all the information that the district is allowed to release at this time. Please pray for all those involved. Jim Wagner Johnson County Superintendent

Due to the limited capacity of 25 people per gathering mandate, we unfortunately do not have room for guests at the Board Meeting. The meeting will be recorded and posted on our website after the fact. We apologize for any inconvenience this may cause.

If you are interested in enrolling your student in Johnson County Virtual School for the second semester please get in contact with Kellie Boedecker at 684-2269 ext 5076 or
kboedecker@jcsd1.us
. The deadline for enrollment is January 15th for high school students. All other students can enroll up to March 1, 2021.

"What if I need a letter for work or school to quarantine" If you were notified by someone who tested positive for COVID-19 and need a letter to quarantine, please email
wdh.covid19@wyo.gov
with the following information: 1. Your name and contact information 2. The name of the person who tested positive that you were in close contact with 3. The county you live in
Recently, Johnson County has experienced an increase in the number of positive COVID-19 cases, this increase directly impacts the functioning of our school system. The main goal for Johnson County School District is to provide for the health and safety of our students and staff. We believe that schools are the safest place for our students to be and we want to keep our schools open. The safety protocols that are in place in our schools are working to reduce the transmission of this virus. In order for us to continue our mission of guaranteeing a learning environment where every student grows every day in his or her overall well being and academic achievement, we need help from our community. Please remember to wear a face covering, maintain at least 6 feet distance from people in social settings, and frequently wash your hands. Thank you for partnering with us to keep our students and staff safe and participating in face-to-face learning. JCSD#1 is committed to keeping our school buildings open and educating our students.

Free Meals have been extended!
In relation to the incident earlier today, Mr. Wagner wants to communicate to our parents/guardians that our students are in the clear.
Parents and Guardians, please know that buses will be running on schedule this afternoon. Feel free to call the District office with any questions.
ALERT! ATTEMPTED CHILD ABDUCTION NEAR ANGUS AND WESTERN AVENUE. PERPETRATOR WAS A WHITE MALE, DRIVING A DARK PICK-UP TRUCK. PLEASE BE ON THE LOOK OUT FOR SUSPICIOUS ACTIVITY.

Buffalo buses will run at their normal time this afternoon, Wednesday, September 9, 2020.

All Buffalo buses are CANCELLED this morning, Wednesday, September 9, 2020 due to a non-student medical emergency.

Dear parents/guardians: JCSD#1 will be taking part in the USDA extended waiver by offering ALL in person & virtually enrolled JCSD#1 students FREE meals (breakfast & lunch), through December 31, 2020. This will begin Monday, September 14th and will follow the school calendar for both Buffalo and Kaycee. All virtual students that wish to eat school breakfast &/or lunch will need to sign up in advance by contacting Ricci Sanders at 307-620-9206, M-Th between 8am-4:30pm. The process for meal pickup will be communicated when you sign up. On January 1, 2021 all lunch statuses will revert back to what they are as of September 11th, unless an updated and approved application is submitted before December 31st. Therefore, I still need to be collecting Free and Reduced Lunch applications. Approved applications also help fund our schools in other ways. So please get those turned into me if you have not done so after July 1, 2020. If your student has a negative lunch balance please take this opportunity to get that caught up so that he/she begins with a zero balance in January. If you have any questions, please give me a call! Thank you, Ricci


Please see the following update from our Public Health Officer: Because of some confusion about the use of face masks and face shields at JCSD1, Dr. Schueler has now clarified by stating that masks only are allowed per Public Health Order #10. Face Shields will not be a substitute unless in the exempted cases outlined in the order. Dr. Schueler states that there is growing evidence that face shields do protect against COVID-19, but until the state and local public health offices approve of face shield use in the schools, Johnson County Schools should use face coverings or facemasks, and not face shields.

Please see the COVID-19 page for the latest information and updates.